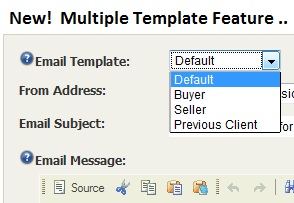 If you're like many others, a Drip Marketing Campaign is great but you'd love to be able to tailor the message based on what type of client you are reaching out to. You've asked, we've listened. Altos Research now introduces multiple email templates for your Drip Marketing Campaign.
Whether uploading contacts by bulk or adding/editing a contact manually, you can now specify what template you'd like to use for each individual contact. Each template is equipped with default text but can be customized to meet your needs.
The following templates are now available. Keep in mind that the default template will be sent to those who register using the AltosConnect form and MarketMapper on your website or Blog. The default will also be used if no template is specified when a contact is added.
Default: The template that will be sent to all newly registered contacts.
Buyers: A template specifically tuned for home buyers.
Sellers: For your clients who are actively looking to sell their home.
Previous Clients: For long term or previous clients to keep them informed.