We're thrilled to announce Altos Alert, a new feature available for all Altos Research subscribers.  It's *free* to all Altos subscribers, of course (you know…because we're cool like Fonzie).
It's a text messaging feature that alerts you on your mobile device whenever one of your contacts opens a Market Report.  It's an instant notification and allows you to follow-up with your contacts while they're looking at your pretty report and thinking about real estate.  The contacts' names and reports they opened will be displayed on the text for ultra-fast response times.  Cool stuff, eh?
By studying the best agents in the business, we know the ones who follow-up with their leads IMMEDIATELY have the best success.  This is true for website inquiries, phone calls from For Sale signs, and now it is true with your Altos Research Market Reports.  Here's a link to a great study done by MIT and Lead Response Management (Side note: We send our Market Reports on Wednesdays by default.  Read the report for some good data on that.)
How to activate this service:
Go to www.altosresearch.com and login.
Go My Web Tools.
Go to Altos Connect.
Look for the field asking for your cell phone number called "Altos Alert."
Enter your number.
Click "Save."
When one of your contacts opens a Market Report, you'll receive a text message with the contact's name, the report that was opened, and the contact's phone number (the contact's number only shows on the text IF you have entered the contact's number in the system).
You immediately call those contacts when you receive the text, close more deals, and retire early.
Click the screenshot below to see where to enter your phone number.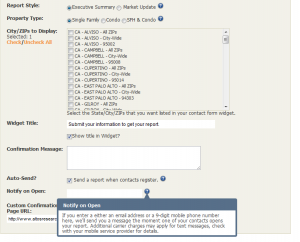 Scenario 1:
You met a prospect at an open house last fall.  You've been sending market reports to the prospect twice a month for six months.  She keeps saying she's "not ready yet" whenever you call or email, and says she's waiting to see what happens with the foreclosure scene.  You've been watching every week and you can see she only opened the first market report you sent her.  All of a sudden, you get a text message letting you know she opened the latest market report and you immediately call to follow-up.  She says she's now ready to buy and you schedule showings for her later that week, which will inevitably result in untold riches.
Scenario 2:
Your contact forwards the market report to his neighbor, who said he was thinking about putting his house on the market this summer.  You get a text message saying your contact opened the report (although it was actually the neighbor).  You call your contact, he says he sent the report to his neighbor, you ask for the neighbor's name and address, you go see the neighbor, and you list the neighbor's house, which will inevitably result in untold riches.
Scenario 3:
You send all of your vendors market reports for their home zip codes once a month.  In one week, you get referrals from both your home inspector and your plumber.  You noticed the same market reports were being opened at least once a day, so you called to follow-up and were introduced to their friends who need to purchase homes this spring.  Because you're the agent who consistently provides great information to your vendors without being pushy, they like to refer their friends to you, which will inevitably result in untold riches.
As always, we love to hear your success stories.  Please send them to info (at) altosresearch.com and we'll give you some Twitter and Facebook love.
*Additional carrier charges may apply for text messages. Check with your mobile service provider for details"