I get calls all the time regarding sharing the Executive Summary reports on Facebook using our Facebook application.  Our Facebook application allows you to drop a chart as a status update to your personal or business pages.  This tool will show a thumbnail size chart and whatever verbiage you've added as a status to your page and will populate the same way on your followers newsfeed.  They would then just click on the thumbnail to see a larger size.  The tool however does not allow for posting your PDF Executive Summary Report.  BUT there is a way to share your reports and, to take it a step further, why not incorporate a lead capture as well!
We all know that images/pictures make the biggest impact on peoples newsfeeds.  Although Facebook doesn't allow for uploading of PDF files I have found a workaround.  I've successfully been able to open up the PDF report I'd like to share, scale it down to 80% and take a screenshot (literally a "print screen").  I then open up Paint, an easy to use tool built into to your computer under accessories, and crop out just the report.  Some of you may already have a great screenshot tool that allows you to capture only the content on your screen that you want – awesome!  Through trial and error I have found saving it as a .png verses a .jpeg gave me a better visible result when posting to Facebook.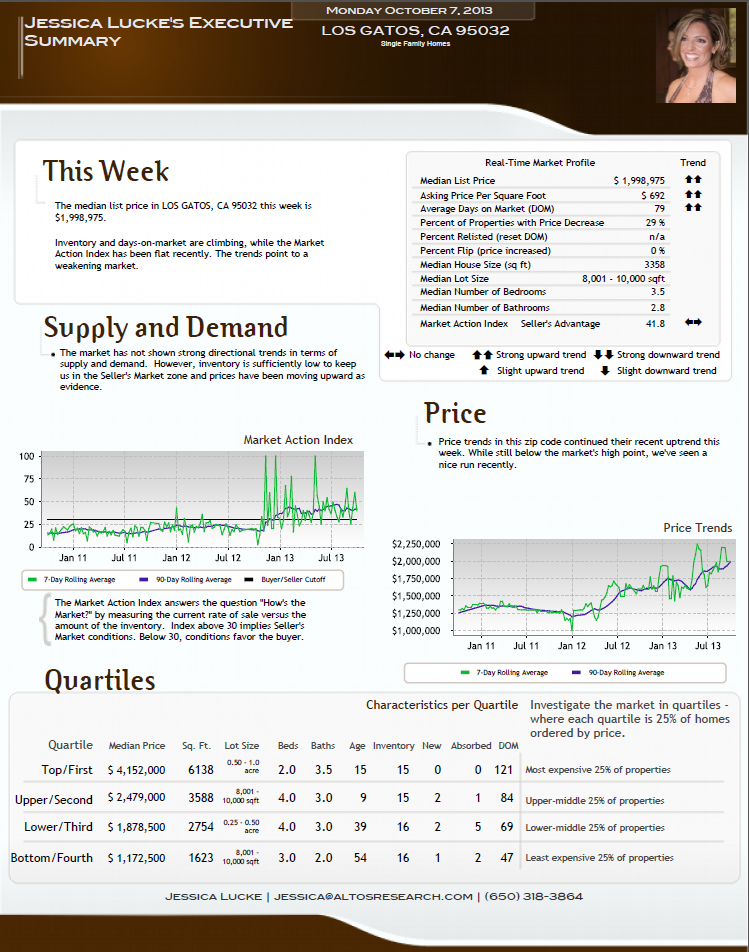 Once you have the image you'll upload it just like any other image!  The nice thing about Facebook is you can write something along with your picture upload.  This is a great opportunity for you to mention that, if someone is interested, you have access to other reports as well and they can easily request one.  For example, I could say something like: "Check out the market in Los Gatos! Interested in getting your own report for an area of interest? Just click on the following link and request one today! http://altos.it/99cDAB"  On your page it would look like the following!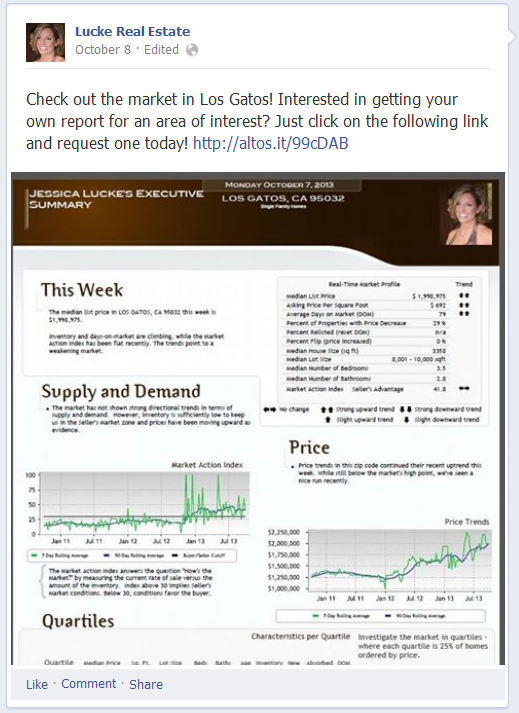 Not familiar with how to go about grabbing the link for your customized lead capture form?  It's easy, just follow the steps below and get started today!
Log into your Altos Research account
– Click on "My WebTools" within the left menu
– Click on "AltosConnect"
– For Report Style select "Executive Summary"
– For Property Type select "SFH and Condo"
– Check all locations
– Scroll down and "Save and Get the Code"
– You'll find 3 different sizes, pick the size you like and copy (CTRL+C) the associated URL.
That's it!  You can use the URL on Facebook, within an email signature or any other place you can think of where there is a potential opportunity for leads!
I hope this helps get you excited about sharing market data with your followers!  As always, if help is needed, feel free to reach out.  I'd be happy to help!